Welcome to North Drug Mart
Trust your health to the leading online prescription service.

Ordering medications
online is fast and easy

Delivery time is an estimated
2 weeks

Canadian & International
Medications

Over 2,000 Brand Name
& Generic Medications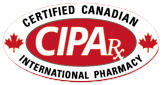 Leading Online Prescription Service - Verified by CIPA
Welcome to North Drug Mart the leading international prescription service.
We are an online prescription service offering online prescription medications and mail order drugs for customers throughout the world.
Our goal is to supply our customers with quality medications through our network of contracted pharmacies at the lowest prices and the best service in the industry.
Patient counselling from our licensed pharmacist is available for our customers from 10AM - 4PM Central Standard Time from Monday to Friday, excluding holidays.

Our Guarantees

Don't have a prescription?
We will call your doctor
for your prescriptions free of charge

Refill Reminder Service
Get a friendly reminder
before your prescription runs out.